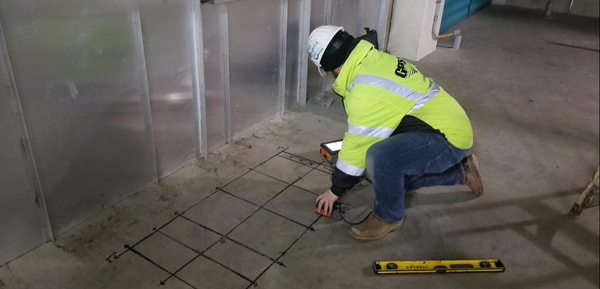 Ground Penetrating Radar Systems, Inc. scans for conduits and reinforcing prior to General Contractor core drilling in Columbus, Ohio
Ground Penetrating Radar Systems was recently called by a local general contractor to help assist in the installation of a couple concrete core drilling locations in Columbus, Ohio. The contractor needed to core drill through the slab to install a couple conduits. Ground Penetrating Radar Systems was able to identify clear areas as well as mark and identify reinforcing steel and or potential conduits in the slab. Providing the general contractor with as much information as we can directly assists with a safe and speedy project. While we identified multiple obstructions throughout their area of concern, we were also able to tell them an approximate slab thickness. All this information prevents delays on the project and keeps people safe. Striking a conduit can cost a contractor thousands of dollars in repairs, as well as potentially harming the workers drilling on site. Ground Penetrating Radar Systems, Inc. was able to get to the job in a timely manner which allowed the contractor to stay on schedule. Ground penetrating radar is an accurate and effective way of locating conduits, rebar, and post tension cables in a concrete slab.
Above you will find our standard markings for this project, we used sharpie to ensure a lasting deliverable in case of other delays on the project. We were able to identify several open areas for the general contractor to core drill through safely. We believe that all these marks represent possible rebar locations but conveyed to the contractor that these could be possible conduits and to be safe they should stay a minimum of 1"-2" of all our marks. By doing this we can ensure an efficient drilling process by avoiding the steel and or conduits in the slab. This helps keep the project on schedule and prevents any unnecessary injuries that could be caused by striking a conduit with a drill. Since GPRS was able to arrive on site quickly and identify potential hazards in the slab prior to core drilling the general contractor was able to safely and efficiently core through the locations they needed.
Ground penetrating radar can be used to identify and mark a variety of things in different kinds of slabs to better assist you on your current or next project. We are called to provide information that can be a key factor in decisions that'll help keep a project on time, and can also make sure to prevent potential expenses due to struck conduits, post tension cables, etc.
For more information on how Ground Penetrating Radar Systems, Inc. can help you on your next project, please contact Asher Coats at 419-261-4250 or by email at asher.coats@gp-radar.com. We also have the capabilities of locating underground utilities such as water, gas, electric, and communication prior to excavation, directional boring, etc. We can provide in the field markings or even provide maps with GPS locates for future projects.