Ground Penetrating Services in Ohio
Ground Penetrating Radar Systems, LLC. is Columbus, Ohio
Ground Penetrating Radar Systems, LLC, is the nation's largest company specializing in the detection of underground utilities and the scanning of concrete structures. GPRS has an extensive nationwide network of highly trained and experienced technicians in every major U.S. market. When clients hire GPRS, they have the peace of mind of knowing that they have the most reliable scanning technology on their job site and they'll receive the assistance of a technician who can provide them with the most accurate data. For over a decade, GPRS has been the industry leader by providing outstanding service and cutting edge technology, keeping projects on time, reducing safety risks, and putting our relationships with our clients before profit.
Ground Penetrating Radar Systems, LLC. is Columbus, Ohio's largest private utility locating and concrete scanning company. Our subsurface mapping technicians specialize in the use of Ground Penetrating Radar (GPR) to detect private utility lines underground and behind concrete surfaces.
GPRS has some of the industry's highest trained and most experienced private utility scanning technicians, ready to map what's below the surface of whatever project you're preparing to excavate.
For nearly two decades, GPRS has been the Columbus area leader in private utility locating services. Our teams provide outstanding service, utilizing cutting-edge technology, to keep your projects on time and reduce the safety risk to your team.
When clients hire GPRS, they have the peace of mind of knowing that they have the most reliable concrete scanning contractors on their job site. From subsurface utility mapping to concrete structure scanning, our team provides reliable date to keep you team safe.
For more information about the utility locating and concrete scanning Ground Penetrating Radar Services can offer, click here to read the GPRS Overview.
Don't take a chance with your excavation job. Before you begin your construction or digging project, please contact your local GPRS sales representative, and save yourself time, money and headaches with our expert private utility locating services.
GPRS uses industry-leading video cameras for our sewer and video pipe inspections. With services like concrete scanning, utility locating, drone imagery, leak detection, and facility mapping and modeling, our VPI services contain the GPRS advantage. The GPRS advantage is simple: with our NASASCO trained and certified Project Managers and industry-tested methodology, our field technicians have the training and knowledge to assess and inspect any sewer, water mainline and pipe, or manhole. Our methodology allows PMs to map water and sewer systems, while finding non-destructive methods for water and sewer inspections. GPRS sewer and video inspections ensure clients receive a comprehensive map of their sewer system including hard to discover elements such as lateral lines.
Private Utility Locating Contractor
Utility line strikes are on the rise, and yet many excavation contractors only follow local or state regulations to call "811" before digging. These services are only required to find public utilities, however, leaving the private utility lines to guesswork.
What You Need to Know: Private utility lines exist alongside public utilities, and are not being identified by standard utility locating services. If your project strikes or damages a utility line while digging, you will be responsible for repairing the damages.
Utilizing any private utility locating contractor still may not be enough unless a thorough investigation takes place prior to digging, there is still a lot of risk for a line strike. GPRS has a proven process and track record to not only locate subsurface utility lines, but to provide complete maps after the investigation to help ensure that your dig is safe.
GPRS can provide your team with a wide range of subsurface utility mapping options, from simple field sketches to a full-blown AutoCAD report, pinpointing exactly where buried private utility lines lie. Our advanced reporting will provide you with a permanent utilities location record for future reference. Scan once and make sure your job site is ready for your team to start digging.
Concrete Scanning Services
From hanging signage in a parking deck to installing sanitary lines in a basement, you need to know what's behind that concrete. Knowing where the critical utility lines in a concrete slab or wall is information that can save you costly repairs, change orders, downtime and potential worker injury. GPRS utilizes the latest concrete scanning equipment to identify utility lines embedded in the concrete, providing fast and reliable layouts marked directly on to the concrete surface.
What You Need to Know: Scanning the concrete to locate subsurface private utility lines will minimize the risks of striking electrical conduits, sewer lines, rebar, post tension cables and more, saving you costly repairs and downtime in the process.
Having a visual representation of what lies beneath the concrete surface provides the driller or excavator the line of sight he needs to perform the job safely and accurately. GPRS can mobilize on short notice, often within hours, to your job site. With concrete scanning contractors in nearly every major market in the United States, our team of private utility mapping contractors is just a phone call away.
We provide the most reliable, most complete public and private utility locating services in the industry. Don't take a chance with your job. Scanning the concrete first will minimize the risks of striking rebar, electrical conduits, post tension cables and more.
Call GPRS Columbus today to have our team of private utility mapping contractors examine your job site for potential hazards before you dig.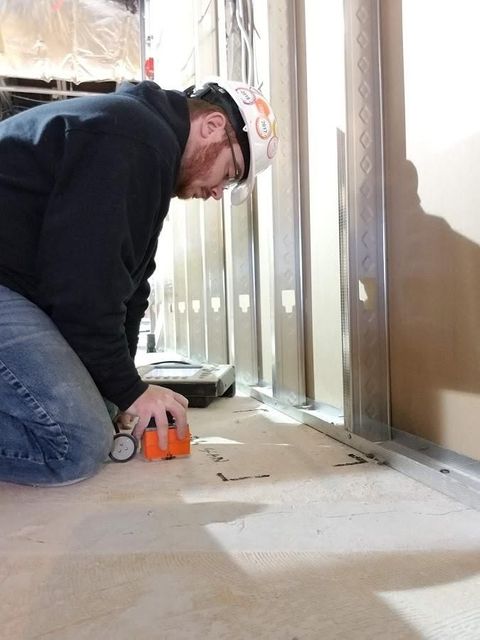 GPRS Scans For Conduits and Reinforcing Prior To Installing Vapor Pins
Ground Penetrating Radar Systems was recently called by a local environmental firm to help assist in the installation of vapor pins in Columbus, OH. The contractor needed to core drill through the slab to install the pins. GPRS was able to identify clear areas as well as mark and identify reinforcing in the slab. Continue reading...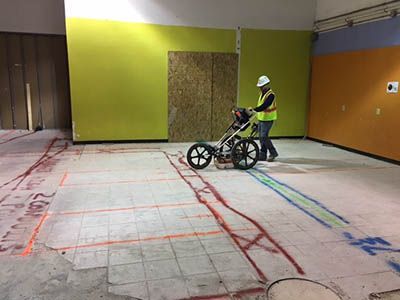 Conduit Locating Prior to Saw-cutting
Ground Penetrating Radar Systems was called by a local contractor to conduct a concrete scan at a building renovation project in Columbus, OH. The scope of work was to locate and mark out any conduits that were in the proposed saw-cutting locations, as the project required the contractor to saw-cut several locations so that they could install new electrical conduits. Continue reading...