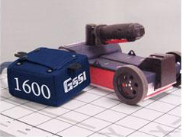 GPRS Scans for Reinforcement Depth Coverage in a Bridge in Jewett, Ohio
On September 9, 2019, GPRS was requested to come on site by a general contractor to perform a Ground Penetrating Radar (GPR) scan at a bridge that is being completely remade from scratch high above a set of train tracks. The contractor was looking to see exactly how much concrete coverage was poured over the reinforcement. The contractor needed to know if the bridge was poured correctly to meet standards with at least 2.5" over every piece of reinforcement in place. GPRS found the coverage never met these depths, and the actual depths were far from acceptable. These major problems could severely risk the safety of everyone driving over the bridge in the future. The actual depths were written in black marker on the surface and located every 9-12 feet down the entire 150' bridge. GPRS was even able to designate the specific depths and test drilled to ensure accuracy to within 1/8". Without having GPRS on site there could have been serious damage to the bridge in the future. Our work prompted the contractor to begin plans on a major corrective action to ensure safety. Minimizing risks to your employees should always be a top priority of all companies, and GPRS aims to assist in that goal for every client we work for. Before you saw cut or core drill, call GPRS to know what's underground and in the concrete slab you are working on!
The pictures of the bridge below show the findings in black marker, with specific depths in several locations.
Ground Penetrating Radar Systems is the best way to locate reinforcement, unexpected lines and conduits prior to saw cutting/drilling through concrete. For more information on how GPRS, Inc. can help you on your next project, please reach out to Colin Broughton at 216-379-4660 or by email at colin.broughton@gprsinc.com. We also have the capabilities of locating underground utilities, UST's (Underground Storage Tanks), and voids nationwide. This allows us to always have your company covered regardless of where your job site may be.
GPRS does not provide geophysical, geological, land surveying or engineering services. If you need such services, please contact an appropriate professional.