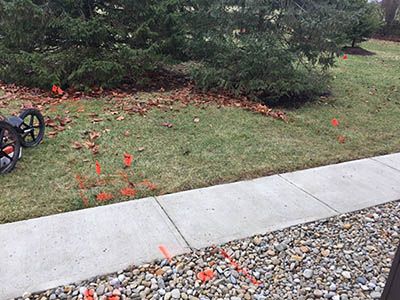 GPRS Locates Utilities Prior to Excavation
A contractor in Columbus, Ohio contacted GPRS to scan a job site for utility lines prior to digging a trench for a new utility line. The contractor was working around a communications cell tower, and they could not risk hitting any utilities. After arriving on site, GPRS, LLC. was able to use GPR equipment to locate and mark out the utilities that would have been hit during the digging process. GPRS, LLC. was able to get to the job done in a timely matter so that the project could remain on schedule, and the contractor was able to use the results of the scan to complete their project without any issues.
GPR is an effective way to locate utilities prior to digging. For more information on how GPRS, LLC. can help you on your next project, please contact Mitch Streight at (614) 400-6889 or by email at mitch.streight@gprsinc.com. We also have the capabilities of locating reinforcing steel, conduits and voids in concrete.