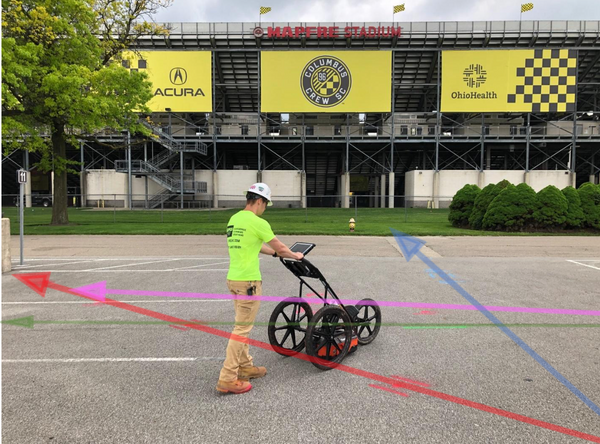 GPRS Locates Utilities at Mapfre Stadium before Sonic Temple Music Festival
The highly anticipated Sonic Temple Art and Music Festival, located at Mapfre Stadium in Columbus, Ohio, featured a lineup led by multiplatinum artists: Foo Fighters, System Of A Down and Disturbed. During the preparation for the festival, Columbus Crew hired GPRS (Ground Penetrating Radar Systems Inc.) to find and locate all underground utilities in the surrounding areas and stadium parking lots. This was scheduled prior to teams moving in to drill holes into the ground in various locations for tent and fence posts.
GPRS located and marked gas lines, water lines, fire-water lines, site lighting, communication lines, and storm lines. We ensured no utilities were struck. To locate all the utilities we used two methods, each of which is preferable at finding certain utilities. When utilized in conjunction, they ensure a much more thorough utility locate than using one method alone. This is one of the benefits of calling GPRS for any utility locate or concrete scan; we are specially trained in more than one method to ensure our customers receive the most thorough and all-encompassing methodologies to perform our jobs to the highest standards possible.
The main tools in our arsenal for utility locating are the 400 MHz GPR Antenna and the Electromagnetic Pipe Locator. GPR works by sending pulses of energy into a material and recording the strength and the time required for the return of the reflected signal. The total depth achieved can be as much as 8 feet or more with this antenna but can vary widely depending on the conductivity of the materials. The Electromagnetic Pipe Locator can detect the electromagnetic fields from live power or radio frequency signals. It can also be used in conjunction with a transmitter to connect directly to accessible, metallic pipes, risers, or tracer wires. Depths achieved can be as much as 20 feet depending on the type of signal being traced or methods used.
In the picture here, a GPRS Project Manager is seen scanning in front of the stadium. Marked onto the picture are utilities discovered in this area. The red arrow indicates site lighting, the green arrow indicates a storm drain, the blue arrow indicates a water line and the pink arrow indicates an unknow utility that was found. All depths were marked onto the surface along with the path of each utility and where possible, flags were also put into the ground. Our utilities are marked to a color code, that can be altered to meet any specific customer requirements.
Please contact GPRS for any of your utility locating or concrete scanning needs:
Daniel O'Shea: 614-202-8553 daniel.oshea@gprsinc.com
Mitch Streight: 614-400-6889 mitch.streight@gprsinc.com
Asher Coats: 419-261-4250, asher.coats@gprsinc.com.
GPRS does not provide geophysical, geological, land surveying or engineering services. If you need such services, please contact an appropriate professional.