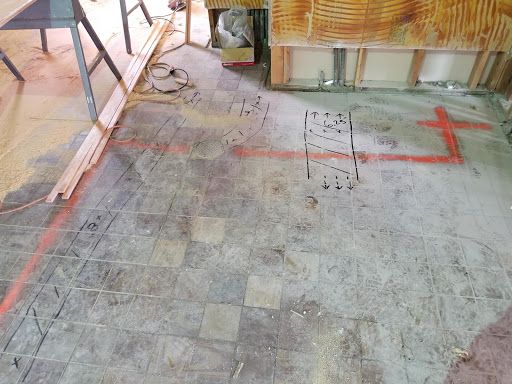 GPRS Locates Conduits Prior to Saw Cutting Concrete Slab at Gas Station in Akron/Cleveland
Ground Penetrating Radar Systems (GPRS) was requested to come on site by a general contractor to perform a Ground Penetrating Radar (GPR) investigation and survey at a gas station that is preparing to have a brand-new fast food restaurant put inside of the building. The contractor is needing to saw cut multiple trenches to install new lines running through the storefront.
The contractor needed to know if there were any conduits or potential problems in the area to avoid saw cutting through and causing major problems while risking the safety of employees. GPRS located a bank of electrical conduits that were just below the concrete slab that could have been saw cut if the blade were set too deep by the person performing the cutting. The conduits were marked on the surface with depth indications so that the contractor could safely saw cut over or around them without hitting the conduits. The site had some knowledge of the electrical conduits, but the location was only guessed and assumed until GPRS came on site.
Without GPRS on site, there could have been serious damage to the electrical lines. GPRS also located the existing water lines, and sanitary lines for the contractor so that they knew where else they had to avoid or approach with caution. Minimizing risk should always be a top priority of all companies, and GPRS aims to assist in that goal for every client we work for. Before you saw cut or core drill, call GPRS to know what's underground!
Ground Penetrating Radar Systems is the best way to ensure the locations of reinforcement, unexpected lines, and conduits prior to saw cutting/drilling through concrete. We also have the capabilities of locating underground utilities, UST's (Underground Storage Tanks), and voids nationwide. This allows us to always have your company covered regardless of where your job site may be. For more information on how GPRS, LLC. can help you on your next project, please reach out to Colin Broughton at (216) 379-4660 or by email at colin.broughton@gprsinc.com.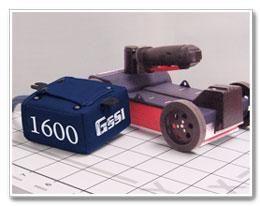 Ground Penetrating Radar (GPR)
GSSI SIR – 3000
GPRS uses a Geophysical Survey Systems Inc. (GSSI) SIR-3000 Radar unit. This is the most advanced GPR available. It allows for onsite interpretation, as well as stores data for later processing. This equipment is self-calibrating, allowing more precise depth and location measurements.
1600 MHz Antenna
This antenna allows data collection to a maximum depth of approximately 18", depending on concrete conditions.