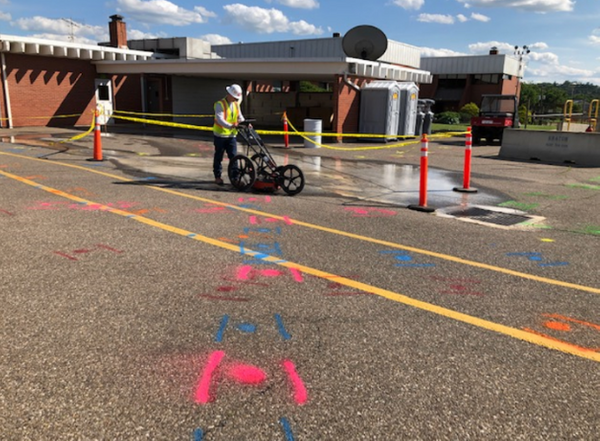 GPRS Locates Around Burst Water Line in Columbus, Ohio
GPRS (Ground Penetrating Radar Systems Inc.) was hired by Kraton Polymers to scan in the vicinity of a burst water line inside their Chemical Plant before they excavated to fix it. The initial site contact thought that there was nothing that ran through the area but wanted to be sure by calling GPRS to double check for any utilities and to locate the waterline itself.
GPRS found several lines including water, fire water, storm, fiber, gas, nitrogen, and some unknown lines. We marked all these findings onto the asphalt along with their depths. We also created a map of the area which uses a Google Earth image as a reference map. We overlay all of our findings, which color code utilities by type (as with our spray paint) and have details such as depth and location method. Therefore, if the surface water were to wash away any of our markings, the customer still has a map with all line locations plotted. In the pictures below, a GPRS Project Manager is seen scanning in front of the burst pipe. You can see the color-coded paint sprayed along the surface for utility, resulting in quite a colorful piece of asphalt.
The main tools in our arsenal for utility locating are the 400 MHz GPR Antenna and the Electromagnetic Pipe Locator. GPR works by sending pulses of energy into a material and recording the strength and the time required for the return of the reflected signal. The total depth achieved can be as much as 8 feet or more with this antenna but can vary widely depending on the conductivity of the materials. The Electromagnetic Pipe Locator can detect the electromagnetic fields from live power or radio frequency signals. It can also be used in conjunction with a transmitter to connect directly to accessible metallic pipes, risers, or tracer wires. Depths achieved can be as much as 20 feet depending on the type of signal being traced or methods used.
Should excavation have taken place without the knowledge of where these lines ran, serious injury could have occurred. Less drastically, lines such as fiber could have been severed, causing delays and costly hindrances to productivity. This example perfectly illustrates the importance of utilizing GPRS before any utility work.
Please contact GPRS for any of your utility locating or concrete scanning needs; Daniel O'Shea: 614-202-8553 daniel.oshea@gprsinc.com, Mitch Streight: 614.400.6889 mitch.streight@gprsinc.com, Asher Coats: 419-261-4250, asher.coats@gprsinc.com.
GPRS does not provide geophysical, geological, land surveying or engineering services. If you need such services, please contact an appropriate professional.