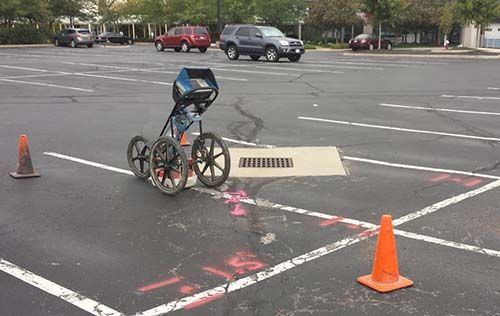 GPR Used to Locate Underground Utility Lines
Ground Penetrating Radar Systems was recently called to a project at an IBM office building by a local construction company in Columbus, Ohio. The scope of work was to scan several sections of an asphalt parking lot, locating and mapping out underground utility lines before excavating to repair drain lines. There were several utility lines that were marked out using GPR that would have been struck during excavating. GPRS, LLC. was able to get to the job in a timely matter to map out the utilities so the project could stay on time. GPR is an accurate and effective way of locating underground utility lines, underground storage tanks, and voids.
For more information on how GPRS, LLC. can help you on your next project, please contact David Borcherdt at (614) 946-2120 or by email at david.borcherdt@gprsinc.com. We also have the capabilities of locating conduits, rebar, and post tension cables in a concrete slab.